Vampires
Information Status
Cryptid Name
Vampire(s)
English Name
Vampire(s)
japanese Name
Kyuketsuki (吸血鬼)
Spanish Name
Vampiros
Greek Name
βρικόλακες
Grouping
Humanoid
Sub-Grouping
Myth
Race
Variable
Gender
Male/Female
Height
Variable
Weight
Variable
Country
Transylvania

England

Region
Americas

Europe
Asia
Africa

Powers
Super Strength

Peak Human Durability
Super Speed
Enhanced Sight
Enhanced Smell
Enhanced Hearing
Immortality
Healing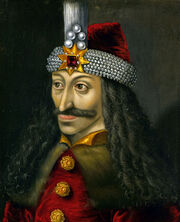 The legendary vampire was inspired by Vlad Dracula, yet it was brought to fear by the author Bram Stoker in his 1897 novel of the same name, has inspired countless horror movies, television shows and other bloodcurdling tales of vampires. Vlad dracula was known for drinking the blood and eating the flesh of his enemies and or his own people yet he has killed over a estimate 10,000 people during his reign it is hinted it was more than that estimated 100,000 from soldiers to his own people.
Weaknesses
Edit
Everything listed is from folklore.
Sunlight.
Stakes to the heart.
Holy water.
Holy grounds.
The weaknesses listed aren't known to be factual by any given knowledge.